HEY GUYS!

I'm jao and I'll be a co-mod here! To celebrate, I'm hosting a contest here on THIS community! JUST for it's members! So, if you're reading this from your friend's page, you're already a step ahead'a the game! In future contests, you guys here will have first alert to it, there by getting more time to prepare. Cool huh?

So, I wanna talk a little bit more about the community. I'd like this to be a place where you can talk about how the DBs affect you in your everyday life. Ever find yourself not wanting to try a new food, but then remember the trials Rooney went through before eating califlower? Or rushing thru things and missing all the wonderful things in the middle like in Hold Your Horses? Did your kid do something funny when they watched? See something that reminded you of the DBs? Share it here!

The diffrence between this place and the ATN forum is simple. While the forum talks about the show in general, here you can talk about it on a more daily-oriented manner. Not to mention news updates and such will be posted here as well and nothing's better than doing your normal friends check and finding out new info on the Dbs. Not to mention LJ avatars and banners And possibly LJ layouts!

So share YOUR pics of the Doodlebops, your testimonials and such. It is your journal and ours, after all. What's it like in the life of a Doodlebop fan?

So, onto the contest!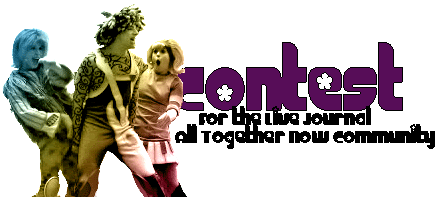 So what KIND of contest is it? I thought we'd start off with a poetry contest. If you have the time to come up with a rhyme, send it in! You might win, friend!

The contest starts Monday, November 6th! All entries will be judged by me and an unbaiest friend who does not regularly perticipate in the Dbop fandom. (So she won't know any of you guys..but she knows the characters ect..)

HOW DO I SUBMIT AN ENTRY?
Easy! Make a post on the community with the subject "Poetry Entry." You CAN enter as many times as you want!




The Rules are way simple!
RULE ONE: YOU MUST BE A MEMBER OF THE LIVE JOURNAL ATN COMMUNITY.
If you need help joining/using Live Journal, send me an e-mail at jaokolad@gmail.com or im me at Zigziggon on AIM or here in this thread or U2U on the ATN Fourm.
Why should you join the Live Journal ATN community? Well for exclusive contests, and for updates and such. The LJ community is more or less for sharing testimonials and thoughts on episodes you've seen that day that says something to you. Something that affected you that day. Things like that. Also for avatars and banners and such.

To join, you have to be logged in, then click "click here" after where it says join this community at the top. Once you're a member, you can post to the community by selecting "ATNNET" in the 'post to' drop down menu by your "update Journal" button at the bottom of the page.
Like I've said, if you have any questions, please don't hesitate to ask.

RULE TWO: It must be original and just for this contest (and use on the ATN site, of course). By entering, you give ATN permission to post it on the site as well.

RULE THREE: It kinda has to be about the Doodlebops or any of it's supporting characters.

RULE FOUR: It must be decent, as in without foul language or violent and explicit imagery. This goes without saying, I think.

And now what you've been waiting for!




The prize will be a nine inch customized guitar. it comes with it's own stand. While it doesn't exactly play music, it adds a bit of Doodle-flair to any desk, dresser, table, shelf, ect. Winner also wins a picture by me. I'm not a professional or anything, but I take great time and detail to my pictures. It would be an 8x11" piece inked and colored in colored pencil.

Second and Thrid places will win pictures by me as well!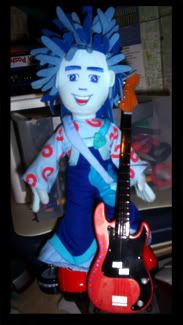 (JUST the guitar is up for prize. There will be future contests where a plush or two may be the prize. All the more reason to join the ATNLJCOM)



DECEMBER 12th, 2006!!!
The winners will be contacted and announced on December 14h!

LETS RECAP
1) From Nov6th till Dec 12th
2) Poetry contest
3) Must be a ATN LJ member
4) Win a cool Doodle-like mini guitar and art
5) Contribute to ATN